**RESULTS**



GOOD AFTERNOON & WELCOME TO
SUPURRR~SATURDAY @ LOS ALAMITOS RACETRACK

OUR FEATURE EVENT TODAY IS
THE "NO-SNOWFLAKES" STAKES


~~



WITH THE SCRATCHES OF:
CRIMINAL TYPE -- (ON R&R FOR AWHILE)
OAKLAWN CAPPER -- (BUSY IN STUD BARN)
POST TIME MIKE -- (NO WORD FROM TRAINER)

WE HAVE A FINE FIELD OF TEN
AS 9 CHALLENGE REAL QUIET
TRYING TO PREVENT A REPEAT VICTORY GALLOP

THE POST PARADE IS JUST BEGINNING


SO LET'S MEET THE FIELD:




RUFFIAN @ 5/2

CIGARSHOP @ 12/1

PEEPTOAD @ 3/1

DUSTY @ 7/2

TIGER DANCER @ 13/1

BLUNNY @ 4/1

CATALINA @ 5/1

STARK @ 15/1

JOHN HENRY @ 12/1

REAL QUIET (DC) @ 2/1

******************


THE HORSES ARE LOADED INTO THE STARTING GATE
EXCEPT FOR JOHN HENRY WHO IS BALKING AT GOING IN




PEPPERMINTS & A FEW PATS ON THE NECK HAVE CONVINCED
THE COLT TO GO ON IN ~ AND WE ARE READY TO RUN




AND THEY'RE OFF IN THE "NO-SNOWFLAKES" STAKES.....








EVERYONE AWAY IN GOOD ORDER
AS TWO FILLYS HEAD OUT FOR THE EARLY LEAD

PEEPTOAD & DUSTY TAKE COMMAND IN THE EARLY GOING


IT'S A FEW LENGTHS BACK TO BLUNNY & REAL QUIET

RUFFIAN IS RIGHT AT THEIR TAILS

IT'S ANOTHER SEVERAL LENGTHS BACK TO THE REST
OF THE FIELD WHO HAVE NOT YET FOUND THEIR BEST STRIDE




OUT OF THE TURN THEY COME




DUSTY DID NOT HANDLE THE TURN WELL
AND HAS DROPPED BACK QUICKLY ~
LEAVING PEEPTOAD ALONE ON THE LEAD

BUT SUDDENLY, A HUGE ROAR FROM THE CROWD AS
"BLUNNY~ THE ENERGIZER BUNNY"
CHANGED FROM 'BUNNY' TO SUPER-SONIC ROCKET ----
OVERTAKING PEEPTOAD ON THE LEAD AND NOW IN COMMAND





IT'S AROUND 15 LENGTHS BACK TO DUSTY, CATALINA ~
AND DEFENDING CHAMPION, REAL QUIET




THEY'RE AT THE TOP OF THE STRETCH




BLUNNY LEADING THE WAY....
AND EXTENDING HIS LEAD WITH EVERY STRIDE
OVER PEEPTOAD WHO IS ALL OUT
TRYING TO KEEP UP WITH THE COLT AT THE FRONT


.....



DUSTY CONTINUES TO RUN EVENLY - STILL IN 3rd
WITH CATALINA JUST A LENGTH BEHIND HER

IT'S A BIG GAP BACK TO CIGARSHOP & TIGER DANCER
WHO APPEAR TO HAVE ALMOST CLIPPED HEELS
AS THE COLT WAS RIGHT ON THE FILLY'S TAIL COMING OUT OF THE TURN
NAUGHTY COLT! ~ BUT LUCKILY, A FALL WAS AVERTED!

EVEN FARTHER BACK STARK & RUFFIAN ARE HAVING
A RUCKUS OF THEIR OWN WITH SOME BUMPING GOING ON

STAYING OUT OF ALL THE TROUBLE IS JOHN HENRY
WHO SEEMS VERY CONTENTED REMAINING AT THE
VERY BACK OF THE FIELD ~ JUST MEANDERING ALONG






AND DOWN THE STRETCH THEY COME




BLUNNY RUNNING WAY FASTER THAN THE ENERGIZER-BUNNY
MOVING POWERFULLY AND IN TOTAL COMMAND OF THE LEAD

~ BUT HOLD ONTO YOUR HATS FOLKS ~





SUDDENLY THE CROWD IS ON THEIR FEET SCREAMING AS
SOMEONE IS FLYING UP THE RAIL ---- WITH INCREDIBLE SPEED





IT IS PEEPTOAD WHO APPEARS TO HAVE DROPPED BACK
BEFORE, INTENTIONALLY, TO TAKE A 'BREATHER' AND LET
THE COLT ON THE LEAD USE UP HIS ENERGY ~

A VERY WISE STRATEGY MOVE
AS THE FILLY HAS COLLARED THE COLT ON THE LEAD
AND THE 2 ARE NOW ENGAGED IN
A MATCH RACE TO THE WIRE!





BLUNNY ALL OUT ~ TRYING TO HOLD OFF THE FIERY FILLY ~
NECK & NECK ~ STRIDE FOR STRIDE ~ A WHISKER SEPARATES
THESE TWO AS IT'S 10 LENGTHS BACK TO DUSTY & CATALINA

HERE COMES THE WIRE ~ TOO CLOSE TO CALL ~ HOLD ALL TICKETS!





OBJECTION LIGHTS FLASHING ON THE TOTE BOARD
STEWARDS LISTENING TO JOCKEY COMPLAINTS

FINALLY AFTER A LONG WAIT ~ THE PHOTO REVEALS

PEEPTOAD BY A KITTY WHISKER!

BLUNNY -- BRILLIANT IN DEFEAT!

DUSTY HOLDING ON FOR THE SHOW SPOT

CATALINA -- AGAIN STEALS THE PRECIOUS
(Is That Gollum Lurking In The Bushes? Run Catalina, Run!)





$$-OFFICIAL ORDER OF FINISH-$$






1st ~ PEEPTOAD

============ $86.60

~WINNER~






2nd ~ BLUNNY

============= $85.50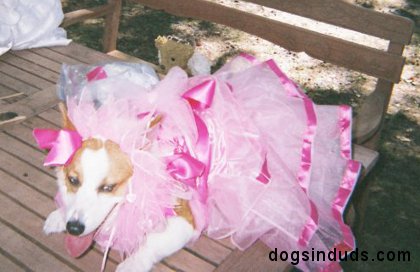 ~RUNNER-UP / BRIDESMAID~







3rd ~ DUSTY

============== $42.50

~FLOWER-BEARER~







4th ~ CATALINA

=========== $36.50

~RING-BEARER~





=== ALSO RAN ===




REAL QUIET --(DC) ========= $34.60

CIGARSHOP ============= $25.40

TIGER DANCER =========== $24.10

STARK ================ $21.80

RUFFIAN =============== $20.60

JOHN HENRY =========== $14.20
(Is That A Grin We See On His Face?
....... He Knows What Awaits In Dog House!) --



Any Objections To Prices -- Should Be Reported ASAP To Stewards:
c/o ===> RUFFIAN333@webtv.net



*******************


~Graphics By: TIGER DANCER~